OBSIDIAN (Lux, #1)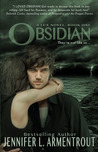 Obsidian by Jennifer L. Armentrout
My rating: 5 of 5 stars
5.24
oh, God…
Oh, WOW!!!
Speechless..
I think I need to calm down before making a review..
Breath in.. breath out..
—
Oh, hell! I don't even know how to start this one.
Obsidian is the first offering of the Lux series. I most definitely love this one a whole lot. I have no regrets reading this one. I am just all praises.
Ms. Jennifer L. Armentrout's writing is so refreshing and her imagination is, like, one of a kind. Who would have thought that an alien can be this.. I don't know… hot and worth swooning over? Oh yes, I swooned, all right. I didn't even know how many times.
Katy is now starting over with her Mom in West Virginia to move on from the memories of her dead father. With everything new in her life, she decides to make a move and introduce herself to their neighbor. And this is when she meets Daemon, hot and gorgeous Daemon. Not until he opens his mouth and talked straight to her that he does not like her to be knocking and making friends with them and her sister, Dee. Uh huh…
Not until after some weird incidents that made Daemon confess that they are not from this planet and they are not humans. Aliens. They are aliens. So I'll just leave it there and it is up to you to discover how they are different and how they get to be that gorgeous when they are supposed to be big-eyed, green, slimy aliens.
Everything in this book is so lovable. From them being aliens and the characters and also the classical banter between Katy and Daemon. It is so classic that sometimes I want Daemon to strangle him myself. I like that Katy is not like any other heroine that needs saving, like everyday. She has this attitude and spirit. And one thing that I am really amazed of is that how the action scenes were written. It was described really clear that my imagination didn't have a hard time imagining the whole scene. It is so unique and brilliant.
Also, how about the extra Daemon's POV?!! It just completed my Lux experience. It was like Ms. Jennifer won't accept the fact that some readers might want to punch Daemon for being a jerk. So she gave them a piece of what Daemon truly feels. Booyah for that!!!
As a whole, unique and fresh. I can't wait for the second one. Definitely worth reading!!!
What I like:
* Daemon rubbing his chest (swoooooon)
* Katy's book review blog
* Jennifer L. Armentrout (oh, I love her.)